I was thinking about what to serve for the first day meal, when this simanim salad for Rosh Hashanah came to mind. We will without a doubt have leftover simanim that we worked so hard to prepare, label, and neatly stack in the fridge. So I thought we should give them one last hurrah with a really good salad.
What are the Simanim?
Simanim are symbolic foods that we eat on Rosh Hashanah night. They include a fish head, honey, apples, pomegranates, gourds, dates, beets, black eyed peas, leeks…and more. Most people have a family custom as to which foods they eat, and each food is followed by a short blessing for the new year.
This salad gets a bonus crunch factor:
Every good salad needs a little crunch. I made these sweet & spicy pepitas to add that wonderful element. They are tossed in olive oil, honey, cinnamon and a touch of cayenne pepper and roasted to perfection. Try not to eat the whole tray at once, you will need some for the salad.
What if I don't have kale?
I chose kale because of its hardiness. It can easily hold up to the beets and roasted butternut squash. If you don't have or like kale, try using mixed greens instead.
The date honey (silan) and tahini dressing is like the icing on the cake. But you know, for salad. Totally feel free to double the recipe and store in the fridge for later use.
Simanim Salad for Rosh Hashanah
The perfect salad for your simanim leftovers.
Ingredients
Salad:
1

box

checked kale or mixed greens

2

medium

cooked beets, diced

1/2

cup

roasted butternut squash cubes

may sub for roasted pumpkin or any other gourd

1/3

cup

pomegranate seeds

1

medium

apple, thinly sliced
Roasted Pepitas
1/2

cup

pepitas (pumpkin seeds)

1

tbsp

olive oil

1

tbsp

honey

1/2

tsp

cinnamon

1

pinch

cayenne pepper
Silan & Tahini dressing
1/2

cup

olive oil

1/4

cup

apple cider vinegar

1/4

cup

silan (date honey)

2

tbsp

tahini

1/2

tsp

garlic powder
Instructions
Preheat oven to 425 F. Toss the pepitas together with the seasonings in a small bowl. Spread on a parchment lined baking sheet and bake for 8-10 minutes. Watch them carefully so that they don't burn.

While the seeds are roasting, whisk the dressing ingredients together.

Remove the pepitas from the oven and set aside to cool. Toss the dressing with the kale and remaining ingredients. Add in the cooled pepitas and serve.
Feel free to add in some cubed roasted chicken or turkey if you have that leftover as well. They will pair beautiful with the flavors in this Simanim salad for Rosh Hashanah!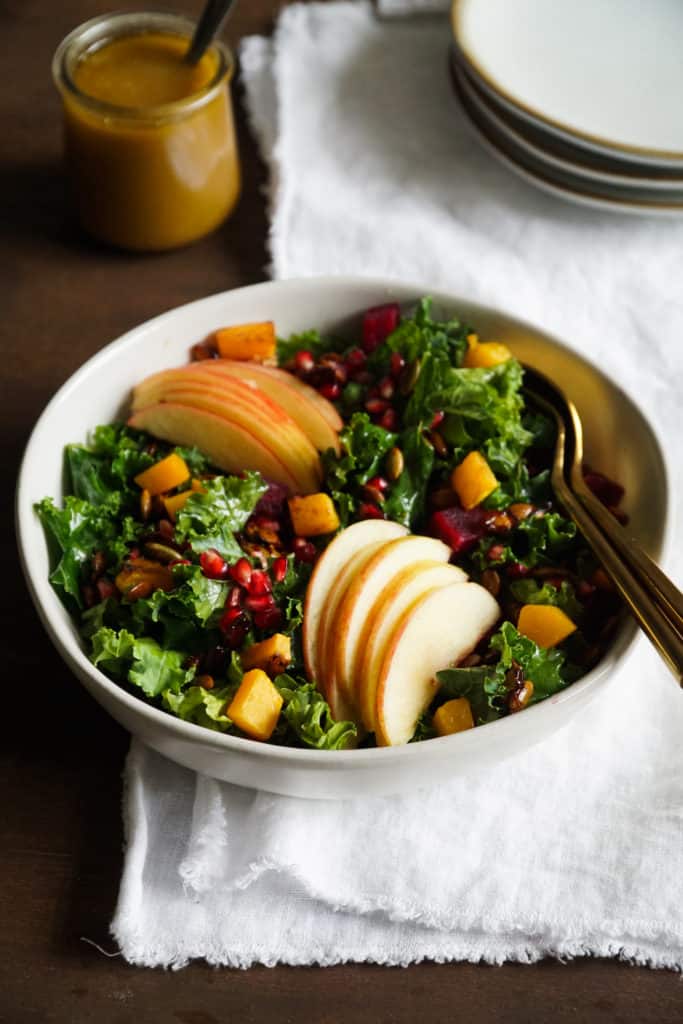 Wishing you all a Shana Tova. May this year be full of blessings and only good things!
Looking for more Rosh Hashanah themed recipes to enhance your table?
Rich Chocolate Pomegranate Tart
A decadent and rich chocolate tart laced with pomegranate.
Check out this recipe
Apple crumble bars
Sweet and tart apples are tucked between layers of buttery crumbs. Topped with a scoop of vanilla ice cream and caramel sauce, this is the perfect fall dessert!
Check out this recipe
Whole Wheat Cinnamon Raisin Challah
Whole wheat cinnamon raisin challah is the perfect way to start off your Rosh Hashanah meal.
Check out this recipe
As always, I love seeing what you cook & bake from my blog, so don't forget to tag me on Instagram @tomatoes_tomahtos!
XXX
SARA
Summary
Recipe Name
Simanim Salad for Rosh Hashanah
Published On